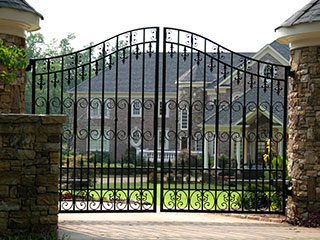 We'll Take Care Of Rust!
Unfortunately, the most common cause of trouble with wrought iron gates is rusting thanks to the elements. Particularly if your area has frequent harsh weather, this is highly likely to happen. It eats away at your gate and makes it far less durable. It may even break if left to rot long enough! Our technicians can come in and get to work to scrub off that stubborn rust, no matter how heavily it has. Using either sandpaper or steel wool, they'll get it all taken off in no time!
Has There Been A Break?
If part of the gate has been broken completely, we can tend to that as well! We can safely and carefully weld the piece back in place to ensure that your gate is sturdy and able to keep your home safe.
Part Repairs and Replacement Available!
Over time, and thanks to weathering, parts of your gate may begin to wear down to the point of causing trouble. Or, they may also have rusting occur. This can cause your gate's door to get stuck when trying to open or make a lot of noise. Our experts can come out and either perform welding repairs or replace the whole hinge if necessary.
It May Need Alignment!
Accidental bumps with a car, or even nasty weather can knock your gate out of place. Even if it's just slightly tweaked, that can be enough for the door to not close properly, which could allow for strangers to be able to enter. The sensors may also get knocked out of place, which can lead to frustrations trying to get it to work as intended. We can come out and carefully go over the whole system to ensure that everything gets set back to it's proper place.
Why Wait Any Longer?
You want your gate to be in the best condition to keep your home protected, so make sure that it is! Call Gate Repair Los Angeles today.