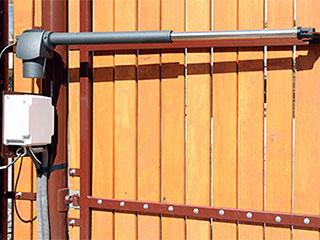 If you are looking for a superb gate opener service, then our team at Gate Repair Los Angeles is your best bet. Our staff and crew have the knowledge, the expertise and the dedicated attitude needed to deliver the best possible results.
Motor Replacement Specialists
If your gate opener has suddenly failed you, don't despair. Our motor replacement specialists can bring it back to life for you. But you don't have to settle for the same old unit once it ceases to function to the best of its ability. We also offer upgraded model installations, from the industry's leading brands, such as Liftmaster and Eagle Gate, and more.
Reliable Opener Repair
Sometimes the motor isn't the issue. Due to their complexity, gate openers can face a variety of issues, and anything from a worn-out gear to a burnt electrical wire can bring the unit's function to a halt. Lucky for you, our team of highly skilled technicians can handle every possible opener related issue with great speed and efficiency. We'll get the unit working again in no time.
Need a Keypad Control Panel?
The opener keypad is a convenient way to use your automatic gate system with zero hassle involved. You simply enter your password and the gate opens like Ali Baba's fabled cave. You can even whisper "open sesame" if you feel like it. The added security feature is a nice benefit too, as no one will be able to use your gate without the correct password, which you will be able to change as often as you like.
Don't Distress – Call and Get The Best!
When you call our Gate Repair Los Angeles team you get more than the best service provider in Los Angeles and the most experienced and professional technicians. You can a guarantee. A guarantee that any installation or repair work that gets done will be of the highest possible quality, and that our team will find the most effective solutions for any problem that you may be plagued by. So don't waste another second. Call now!.