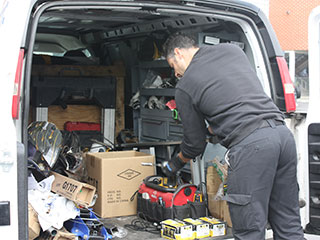 Our customers often ask us for tips on how to maintain their gates so that they function properly for years without the need of frequent repair works to be performed. We understand their concerns when it comes to keeping their properties in an optimal condition, so, to help them achieve this, we've created a short list of recommended maintenance habits every gate owner can adopt.
Check the Vital Components
It is a good idea to start your maintenance routine from the essentials. Residential and commercial gate openers, opener motors, intercom systems, and battery units are the most common parts that can become defective. A quick examination of each one will reveal if objects like sticks, small stones, leaves, or even insects have found their way inside. These objects, although smaller in size, can put an unnecessary strain on the mechanism. Using a hand brush or a pair of tweezers will help you clean the reachable areas of these parts.
Keeping the Relevant Parts Well-Lubricated
Moving parts can cause friction, which can lead to increased wear and tear damage. It is always recommended that such parts be cleaned and oiled on a regular basis. Lubrication not only prevents corrosion but also extends the overall lifespan of your system. Different types of lubricants are easily available at local hardware stores. Consult your manufacturer's manual to learn which type is best suited for your particular gate.
Washing and Waxing
It is heartbreaking to see your gate lose its sheen within just a few months of installation. Wrought iron or steel gates can be easily washed using water and other cleaning liquids, while wooden ones require specific varnishes so that they do not swell and rot.
Pest Control Twice a Year
If you reside in an area where there is a severe problem with pests, it would be helpful to hire a pest control service on a frequent basis. Otherwise, doing it twice a year would be sufficient to keep the moths, slugs, spiders, and other insects at bay. These tiny creatures may look harmless, but they can destroy the circuit boards or gnaw on the wirings of your gate opener. Additionally, insects swarm in places where there is moisture, so keeping such areas clean and dry would also help.
Following these tips will definitely help you keep your gate in a better condition. We appreciate your dedication in taking care of your property. However, if you do experience any problems, our experts at Gate Repair Los Angeles are always available.