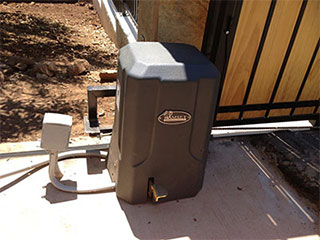 A beautiful gate can add some curb appeal and raise the aesthetic value of your home. However, it is important that such a large and complex system gets regularly maintained to ensure that it continues to function properly and retains its eye-pleasing appearance. Although major issues may require professional assistance, there are a number of basic maintenance tasks that homeowners can easily tackle by themselves. For any complex problem, of course, be sure to contact our team of repair specialists. We'll get things sorted out professionally and safely.
Lubricate The Moving Parts
Regular lubrication can increase the lifespan of your system. Be sure to apply it to the hinges, rollers, and tracks, as well as any other moving part. Doing this can provide you with the perfect opportunity to catch any potential wear and tear issues before they get worse. Consult your owner's manual to learn which type of lubricant you should use, and be sure to contact our professional technicians to have them take care of any problem you discover.
Tighten Fixings
Bolts and other fastenings can loosen over time, which can result in jerky movement when your gate is in motion. Regularly check that every part of your system is as secure and tight as it can be.
Repair Rust Spots or Damage
Rust spots on wrought iron gates can do more than spoil its aesthetic look, they can also potentially compromise it's operating integrity. Check your gate for any signs of rust or other types of damage. If any are found, be sure to contact us so we'll get everything promptly repaired. You don't want to let these types of issues develop any further. You can also prevent, or at least somewhat hinder rust by getting any scratches or chips repaired or repainted as quickly as possible.
Check The Batteries
A great many instances of gate malfunctions often stem from an inadequate power supply. Many homeowners have called our repair service because they could not open or close their gates, only to discover, once our technicians arrived, that it was a simple case of their remote or keypad needing new batteries. If that has happened to you, then there's no reason to be embarrassed, of course. Simply make sure to check your batteries regularly, especially whenever your gate refuses to open.
These are just a few simple maintenance tasks which can reduce the need for major repairs and increase the lifespan of your system.
Be sure to contact our professional Gate Repair Los Angeles team for any gate related service you require.