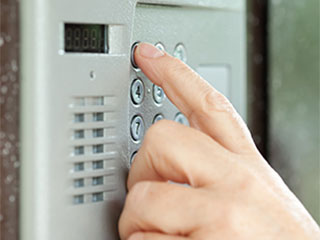 If you are looking for an Intercom System for your gate, we can offer you the best products in the industry. Our professional technicians are dedicated to providing exceptional service to our customers and will install everything to your complete satisfaction.
Why Would I need an Intercom System?
For once, you'll be able to communicate with any unexpected visitor without having to go and meet them face to face. This can help you avoid a few unpleasant scenarios. If you opt for a visual intercom system you'll be able to actually see who's at your gate, which is a terrific security measure that can be invaluable. Our staff will be more than happy to help you choose the right system for you.
Industry Leading Brands
We offer the best variety of intercom systems, such as Aiphone and Linear and Doorkin, and our skilled technicians are experts in installing each and every one of their various models.
The Auto Dialer
This is one of the most commonly used systems, especially in large buildings. Visitors have to call the homeowner from the gate and they have to enter a code to let them in. The differences between commercial and residential models mainly lie in the aspect of the phone call. In the commercial models, the call is often automated to the push of a button, so the visitors don't actually have to use their own phone. A communication channel opens between the relevant homeowner and the visitor, through which the homeowner can ascertain the visitor's identity and decide whether to "buzz" them in or not.
The Keypad Option
What many homeowners opt for, is setting up a password operatable control panel near their gate. That way only those with permission (a.k.a password) can be granted access, and the homeowner need not be hassled unnecessarily.
At Gate Repair Los Angeles, we pride ourselves in providing our customers with the fastest and most reliable service in town. Our professional team of technicians can handle anything from repair to replacement.