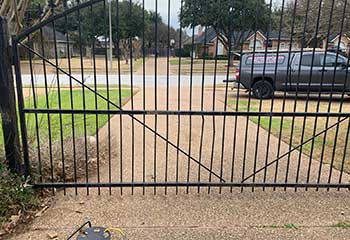 Iron Gate Installation
Customer Issue: Mr. Rye was looking for a way to secure his estate, and gate installation was a part of his plan.
Our Solution: As soon as we presented our products to Mr. Rye, we could see he instantly fell in love with our wrought iron gates. He decided on an arched-top swing gate with finials and we helped him choose a powerful opener. When we returned a few days later, we installed the gate of Mr. Rye's choice along with an integrated control and intercom system and showed him how everything worked.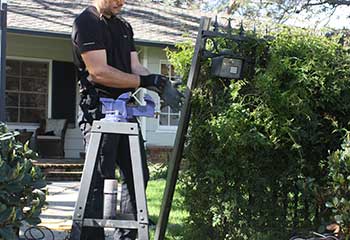 Gate Repair
Customer Issue: Mr. Clark backed up into a closed gate and damaged one of the leaves.
Our Solution: After detailed visual inspection, we got straight to work to make the gate safe and fully functioning again ASAP. The gate needed some welding and a fresh set of hinges, along with some cosmetic customization work so that it would not only resume operation but look its best again. We also carried out preventative maintenance and explained to Mr. Clark what he could do to keep his gate system in good working order.