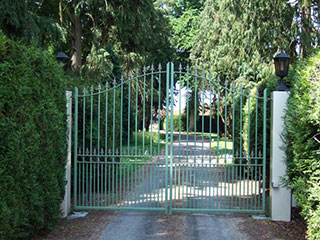 Professional Residential Gate Repair
Do you have a swing gate which is uneven or a sliding one that keeps reversing? Our company is here to help. Our repair work begins with a detailed inspection. We will also run tests, if needed, to get to the root of the problem. Our goal is to deal with any issue in the shortest time possible. If the hinge welding is damaged, we will fix it. If you have a bent track, you can rely on us to straighten it. In case there is a broken wheel, we will replace it with a matching one. We are equipped with high-quality spare parts, and our repair services cover all gates, regardless of their size and manufacturer. You can count on us to fix even the most advanced residential security system.
Opener Service
When you have a problem with your opener, you can rely on our repair services. We will fix your unit regardless of its model and brand. Whether there is a need for replacing a broken chain or sprocket or for repairing the motor, our professional technicians will get the job done quickly and efficiently. Our services for openers include installation as well. Our first task will be to help you choose a model that best suits your needs. You can rely on us to answer all of your questions and to give you perfect advice that will help you make the right decision.
Regular Maintenance for Optimal Performance
Our team is available to take care of your automatic gate and all its components and make sure everything is in an optimal condition. Our work begins with checks and tests that help us identify any potential problems. If we find an issue, we will deal with it without wasting time. In case your opener's chain is loose, for example, we will adjust it and remove some of the links if necessary. Lubrication is an integral part of our service. By applying it regularly, the gate can work more smoothly and quietly.
Call our Gate Repair Los Angeles team today and get the best possible solution to your problem!
For high quality gate and opener related services, turn to our company, Gate Repair Los Angeles, today!