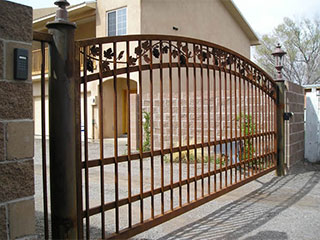 A new gate system will undoubtedly increase the security of your property and will help keep your family safe. When you plan your driveway gate installation, you can count on our company to take care of the project from A to Z. Our first job is to help you decide on the best unit for your specific needs. Our initial check will reveal whether you have the freedom to choose whichever type you like or if an uneven terrain or the presence of irremovable obstructions have limited your options.
What Should My Gate Be Made of?
Every type of material has its own benefits and disadvantages. While wooden gates are solid and can offer a unique rustic charm, they require a good amount of maintenance, including regular repainting. Steel ones are durable and require less care, but can be prone to rust. No matter what your choice is, our professional team can install your new gate to perfection, ensuring that the posts are stable and that everything is working smoothly.
Professional Opener Installation
Are you looking for a more advanced opener for your new or existing gate? You can rely on us for its installation. We work with all types of electric operators for swing and sliding gates, including units which are set underground. Our automatic gate installation services cover not only the motor unit and the hardware components but also any accessories you may have decided to get. For example, we can program your remote controls to ensure that you will use your new electric gate conveniently from day one. After the entire opener system is ready for operation, count on us to test it a few times to confirm that each component works like it's supposed to.
Installing Intercom Systems
Our experienced technicians can set up and program an intercom system of any type and brand. Whether you want a basic voice system with a transmitter and a receiver or an advanced one that provides live video footage and can keep a record of people's faces, you can rely on us to install it with maximum precision.
The Best Service Around
Contact our Gate Repair Los Angeles team to get your new system installed with great speed and efficiency. We respond quickly and have the capacity to carry out large-scale and complex projects.
Need more? We also provide:
Gate Exit Sensor Installation
Same Day Emergency Service