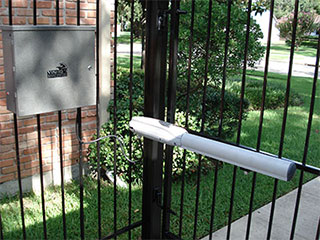 Signs Of A Faulty Remote
Your gate should open right away when you press the button on your remote, that's the whole point! However, if you've been noticing that it takes multiple presses to get it to respond, that it seems to be delayed, or it doesn't work at all, the issue may be with the remote itself. IF you've already checked the batteries, it's time to give us a call so we can assist you!
Our Technicians Can Fix It
Sometimes a new remote isn't necessary, it simply needs some tending to! Components of it may break down over time from use, or something may be disrupting the signal necessary for it to communicate with your gate. We'll get to the source of the trouble quickly, and determine if we can repair the problem, or if you do need a new one altogether.
We Can Install It Fast
The remote for your gate must be installed properly to ensure that your gate will be certain to respond. Our experts will ensure that your remote and gate opener are on the proper frequency and setting so that you won't be stuck with a gate that still won't work when you need it to! We're familiar with a wide variety of manufacturers from LiftMaster to Mighty Mule, so whatever you prefer, we can handle it all.
Commercial Services Available
It's really important for people to be able to get in and out of your business efficiently, but also for it to remain safe and secure! For that, you need a remote that you can count on to work every time it's used. If that's not the case, then we'll tend to it right away and find out what's causing the problem. If nothing else, we can replace them for you so your company won't have to be held up any longer.
Don't Wait Any Longer
There's no reason to deal with the frustration of a faulty remote! Just give Gate Repair Los Angeles, CA a call now.