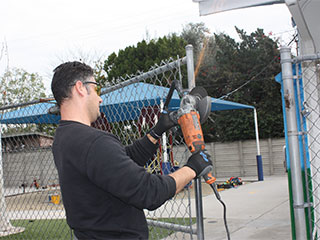 Separated Hinges Solution
The heavy panels of your swing gate put a lot of stress on the hinges. If there are enough hinges or if the welds are strong enough, this usually wouldn't be a problem. This becomes a problem when the welds give out on metal ones or if the post itself gives out in the case of wooden ones. If any of these happen, you can contact our company for our professional gate repair services. We'll redo and reinforce weak welds on hinges as well as put up a new post if rot has already claimed your current one.
Fixing the Sagging door Panels
Metal or wooden gates that start to droop require professional repairs to retain or regain the efficiency of their function. If the panels of your gates sag, the reason is most likely weld failure for steel or wrought iron ones and rot or improper support for wooden ones. The best way to remedy this is by reinforcing the support structures currently in place and to provide additional structures like struts and cables. These will make drooping panels stand rigid again, improving the system's alignment and allowing for a much smoother swing or slide when opening or closing.
The Ineffective Opener
Gates are put up for security and convenience. This aspect of convenience, however, can be enhanced significantly with the use of a reliable opener that you can control remotely. Though these operators can be fairly durable, wear and tear will get to them eventually. When one or more moving parts fail or malfunction, the entire system will stop working. When this happens, call us to have things professionally repaired. We carry the right spare parts, and our technicians have the necessary skill set to make your opener work perfectly again.
Repairing Automated Systems
The pinnacle of convenience is automation. With your driveway gate, this can be achieved with the use of sensors and operators. When any of these fail, you're going to have to revert to manual opening again, which is, of course, the most inconvenient thing to do. Call our company the moment something in your automated system malfunctions and we'll use our expertise to perform an automatic gate repair.
Our team can also take care of: