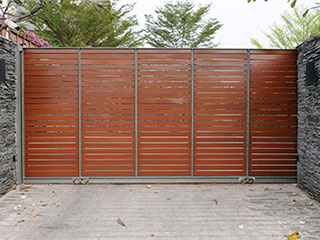 If you've been eyeing sliding gates and yearning to have one put on your property but were concerned about the cost, it's time to wave those worries away! Our experts provide quick and excellent service at a price that you can afford. We'll help you decide on the exact style you're looking for be it metal, wood, or otherwise, and set about getting it put in right away. We'll be done before you know it and your home will have a beautiful new edition that will help keep it secure!
Sliding Gate Repair
If your sliding gate has been acting up lately, don't worry! We can determine what the problem is and get it sorted out before you know it. Whether some parts need to be repaired or replaced thanks to wear, or the opener needs to be fixed up, we can assist you. We're skilled in a wide variety of brands as well, so whatever type of opener you have, we'll be able to service it. Gate alignment is also available for those accidental bumps or storms that have knocked it out of place.
Maintenance Is Important
To keep your gate in pristine working order, it's best to have it regularly maintained. This can protect from more costly damages in the future and will ensure that it's working properly to keep your home safe. We can take care of all of it for you!
Commercial Solutions
If your company has been considering having a sliding gate installed, or the one you have could use some tending to, let us handle it for you! We know how important it is for the job to be done as quickly as possible so that your employees and otherwise can get in and out as needed, and our technicians can do so without losing quality. Your business will be back on its busy schedule in no time.
Call Us Now
Contact Gate Repair Los Angeles today, and we'll get to work!