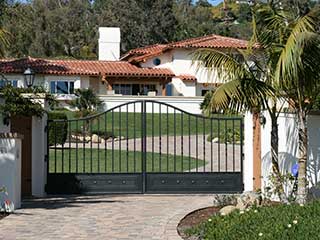 When you find yourself looking for a professional gate service that's reliable and nearby our team at Gate Repair Los Angeles is at your service. Our specialists have the experience, the special tools, and the professional expertise necessary to perform any gate-related work you may need to your complete satisfaction. From new installation to major repairs, there is nothing our team can't do for you. When you want professional, reliable, and dependable service at the best prices in California, be sure to give us a call.
The Best Gate Repair & Replacement Services Near You
If your gate tends to get stuck, stutter, shake, or keep reversing – you can always count on our team to get there as fast as possible and get it fixed. We work with all types and styles of gates, and can take care of all brands of openers, including Liftmaster, Elite, FAAC, and more. Problems with your gate intercom? Our team can take care of that as well! Whether your issue is large or small, you can rest assured your gate will be back in order in no time.
New Gate Installation
When you want to add security to your property or to enhance the appearance of your home, contact our experts. Our team can take care of the entire process – from consultation to installation of the gate, opener, and even the intercom system. Our experienced technicians use only the best components and installation methods so that your system will operate perfectly from day one, and will last you for many years to come. Wrought iron, wooden, and custom-made gates are all available in different models and sizes, including swing and sliding. If you want your system installed right, contact us!
Professional Gate Maintenance & Troubleshooting
Prevent the hassle and inconvenience of unexpected problems by having your gate professionally maintained. Catching minor issues before they grow into major problems is the key, especially for commercial gates. One of the most important things to check during maintenance is the safety functions and the reverse mechanism. In case our team finds any problem, the part will be either repaired of replaced on the spot.
Call Our Experts at Gate Repair Los Angeles Today
Our professional team is ready to satisfy every single one of your gate-related needs! Our professionals can handle everything, from installation of a completely new system, to major repairs and scheduled maintenance. We have the skills, the tools, and the experience to do the job more than right – we can do it perfectly! But don't just take our word for it, call today and let us show you!
The Best Service Provider Around:
Top Quality Replacement Parts
Highly Skilled Technicians