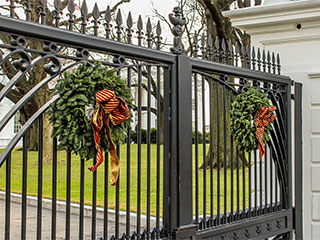 It's the holiday season and what better way to celebrate it than to decorate every part of your house accordingly? We have eight creative ways to incorporate your gate into the festive spirit!
Topiary Décor

Do you have a few empty boxes lying around? Wrap them up in sturdy and waterproof wrappers and add ribbons. Then put in holes for where the strings should go and tie the boxes on your gate. Arrange them decoratively so they look like they are cascading.

Add Greenery

Use various types of vines and foliage mixed in with some decorative baubles and tinsels to create garlands and wreath and topiary for your gates. You can go for a modernized look with polychromatic colors, or traditional with the green of the plants and some red Christmas slashes.

Illuminate your Gates

You can get really durable and weatherproof outdoor lighting such as electronic candles to light up your gates and walkways, effectively guiding your guests into your home. These can create a soft, warm and welcoming glow. Add some glittering white, gold or silver ornaments to create a sparkling impression.

Bows & Baubles

Create a garland entirely out of colorful baubles and bows and hang them on your gate. It's relatively easy to do! All you need is bows in various sizes. Arrange them intermittently between the orbs and baubles. Again, for a more modern look, go with monochromatic colors.

Your Initials at the Gate

Monograms are all the rage nowadays! Embrace your family name with a custom made monogram that can be crafted from wood or steel. Want the DIY way? You can even plant your own monogram with moss! This will take some time, of course, so you'll have to start working on it well in advance. All these different ideas create a welcoming tone for your guests and it can be a great way for your home to stand out.

Gate Decoration with Flowers

Make your gate décor everlasting with some beautiful and life-like artificial flowers. Create wreaths and garlands made out of Magnolia, Chrysanthemum or Roses.

Glistening Christmas

Who doesn't like lights? Your gate can be adorned top to bottom with lights or you can just drape them across its frames. You can extend the lighting to tree trunks and other parts of your landscape as well.

Repurpose

One man's trash is another man's treasure right? If you want to create more of a whimsical look, stick some photo frames painted in bright colors on. You can even use car license plates to get that vintage chic look. We've seen one with bird cages stuck on one gate, only instead of birds, the cages were filled with pretty potted plants.
We Wish all Our Costumers a very Merry Christmas from Gate Repair Los Angeles!