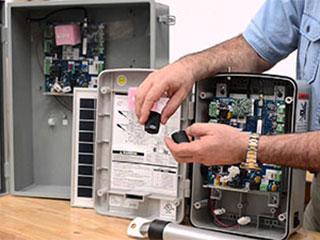 Some types of malfunctions can be extremely dangerous, especially as far as personal safety and security are concerned, and should therefore be addressed right away. Modern opener systems can suffer various sensor, program and signal errors that can make them behave weirdly or break down at the worst of times, thus effectively rendering your gate not only inoperable, but potentially dangerous to handle.
Remote Signal Problems
It can be possible for opener that use radio-frequency to react to signals transmitted by a variety of other devices. Even by the remote your neighbor used to operate their own gate. This can make your gate open or close seemingly at random, and its unpredictable behavior will need to be taken under control as soon as possible.
Suddenly Shut Down
Your gate becoming stuck or deactivated suddenly can be very alarming, especially if you have to leave your house exactly when this happens. If the opener's motor gives in, its sensors are malfunctioning or its battery fries, your gate could be completely disabled until you have it professionally repaired.
Couldn't I Use It Manually?
It is possible to set an automatic gate to manual mode and leave it open or closed, whichever position you need for the moment, but without knowing what other potential faults your gate is suffering from, operating it in any way could worsen the system's condition, or even injure yourself or your family members.
Gate Reverses for No Apparent Reason
Well, for a scenario such as this there is usually a reason, and a majority of the times it's something to do with one or more of the sensors. If you find that your gate is refusing to close and keeps reversing, the security of your home or business is incomplete to say the least. However, if your gate does not reverse when an obstacle gets in its path – be it your car or your child's bicycle – the situation calls for urgent assistance! You should avoid any possible accidents and our professional team at Gate Repair Los Angeles to get your sensors fixed or replaced.