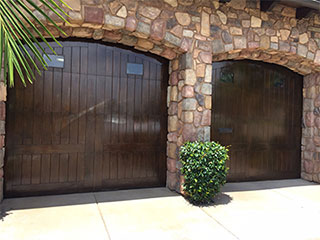 Many homeowners use their garages as a main entry point to their house, and therefore these systems must be reliable. Any problem with your garage door can slow down your day, making you late for work or forcing you to park your car outside.
Professional Repair
Are you having issues with your garage door? Is it prone to getting stuck or repeatedly makes noises during its operation? Then calling our specialists should be your top priority. We can handle every type of problem, and we can have your system go back to smooth operation in no time.
Spring and Roller Replacement
While there are plenty of home repair and maintenance tasks you can take care of by yourself, anything related to your garage door should be left to trained professionals. Springs, for example, carry a great deal of tension, and can be extremely dangerous to handle even when they're new, let alone when they become damaged in some way. Roller replacement may also seem like a simple procedure, but it can become complicated quickly, and your entire door could collapse if you mishandle these crucial components in any way.
Routine Maintenance
Rather than getting your door fixed every time something goes wrong, you can apply our scheduled maintenance service to help you avoid the more costly repairs as well as make your entire system last longer than it normally would. Our highly skilled specialists will lubricate your springs and rollers, as well as inspect your opener's circuitry and make sure that your safety sensors are properly aligned to detect any obstacle in the door's path.
Contact Us Today!
You need to be able to rely on your garage door at all times, especially when you have a busy day ahead of you and don't have a moment to waste. That's where we come in. You can count on us at Gate Repair Los Angeles to handle all your problems with great speed and efficiency.
Extra Information:
Why is it my garage door opens a little then stops?
If your garage door is making loud noises or slowing down before stopping, you have a jam or tangle somewhere in the system. If it opens as normal but then comes to an even stop partway up, you have a problem with your opener settings. The force and travel settings may need recalibration after resetting from factory defaults. There could also be a problem with an opener circuit board, which will have to be replaced.
Why does the garage door close part way then opens again?
Sudden reversals during closing are most often caused by false positives from the safety sensors. Check the sensors on either side of the door, and see if their LED lights are blinking, red, or off. If they are, then your sensors need their lenses cleaned or their positions realigned. If it's not the sensors, then it will probably be an issue with the opener programming or circuit boards, or a stuck control button.
What garage door is best?
The best garage door depends on your living situation and preferences. If you're worried about security or car accidents, a strong and heavy door is the best choice. If your garage is often exposed to moisture, on the other hand, you may be better off sacrificing strength for water resistance. You also need to think about maintenance requirements and the kind of opener your door requires. In short, there is no single best garage door. It all depends on your needs.